So I feel like I'm a very attractive young lady. This notion of mine is reinforced by this lovely drawing by Andy's sister Mack.
I like her. She draws very well. And I think she is a looker as well.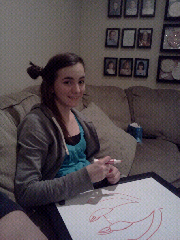 She's the same age as my sister Karmina. And we all love the two of those dears. Karmina draws amazing pictures. And she is so talented! She even took art lessons for a while.
And that last picture is one of my awesome siblings, Fat Boy. Way cute. It has nothing to do with anything, but it makes me happy all the same.